Description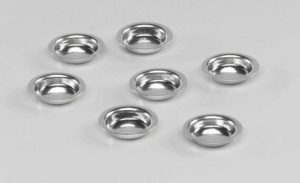 These pans can be used with all of the DSC's from PerkinElmer. They are sealed using the Universal Crimper Press ( B013 9005) using the standard die set , which hermetically seals the pans.  If volatiles are produced then lids or pans with holes should be used to prevent pressure build up
A good combination is a 40µl base with a 30µl base with holes as a lid
| PerkinElmer Part Number | Material | Temperature range |
| --- | --- | --- |
| B0146340 | Aluminum Pans Starter Kit | -170 to 600°C |
| B0143030 | Aluminum Pans Starter Kit | -170 to 600°C |
| B0143015 | Al pans 0.10mm / 10µl | -170 to 600°C |
| B0143016 | Al pans 0.10mm / 30µl | -170 to 600°C |
| B0143017 | Al pans 0.10mm / 40µl | -170 to 600°C |
| B0143018 | Al pans with holes 0.10mm / 30µl | -170 to 600°C |
| B0143019 | Al pans with holes 0.10mm / 40µl | -170 to 600°C |
| B0143024 | Gold pans 0.10mm / 40µl | -170 to 730°C |
| B0143020 | Al pans 0.15mm / 25µl | -170 to 600°C |
| B0143021 | Al pans 0.15mm / 40µl | -170 to 600°C |
| B0169319 | Aluminum Pans and Covers 10µl 3bar | -170 to 600°C |
| B0169320 | Aluminum Pans and Covers 30µl 3bar | -170 to 600°C |
| B0169320 | Aluminum Pans and Covers 40µl 3 bar | -170 to 600°C |
| B0143003 | Al Covers  0.10mm | -170 to 600°C |
| B0143004 | Al Covers 0.15mm | -170 to 600°C |
| B7001015 | Covers with hole of 2,5 mm for OIT/0,15mm | -170 to 600°C |
| B7001014 | Covers with hole of 0.05 mm for OIT/0,15mm | -170 to 600°C |
| B0143050 | Covers Al 0.15mm | -170 to 600°C |
| B0143040 | Covers Al 0.10mm | -170 to 600°C |
| B0143005 | Covers Gold 0.10mm | -170 to 730°C |
Volatile and Vapour Pressure Pans
Volatile sample pans are used with volatile solid or liquid samples which exert significant vapor pressure at the temperature of interest. They are available in both aluminum and gold.
They are sealed using the Universal Crimper press (B013-9005) and sealing insert (B014-4637)
| PerkinElmer Part Number | Material | Temperature range |
| --- | --- | --- |
| 0219-0062 | Aluminium | -170 to 600°C |
| N519-0788 | Aluminium (50m hole) | -170 to 600°C |
Benefits:
They can withstand an internal pressure of 2 atm (30 psi).
Aqueous solutions can be scanned up to and through 100°C to observe solute behavior.
The heats of fusion of materials that sublime can be determined can be determined accurately.
The effect of an enclosed atmosphere on thermal behavior of a sample can be observed.
These are small sample pans with have an effective volume of 10 ml
Covers with 50m-pinhole lids are available for measurement of boiling points, heats of vaporization, and sublimation temperatures.
Applications:
The major applications for this type of pan are purity analyses (i.e., pharmaceuticals, melting of lipids or liquid crystals) and phase transitions, heat of vaporization, and boiling points